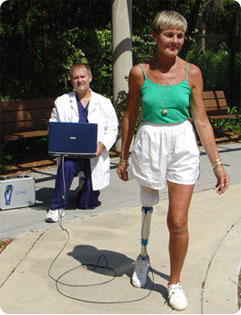 We welcome the opportunity
To show you what makes us different from other facilities!
Your prosthetic care is a responsibility we take very seriously
At Copeland's you are not a number. You will be treated with the care and concern you deserve along with the best prosthetic experience available. We bring over 30 years of experience along with the newest advancements through our research. Since we are an independently owned facility, you will not be rushed in and out to meet a quota. Every patient is important to us.
Please select a service to learn more...
Custom Prosthetics
Every prosthetic device here at Copeland Prosthetics and Research is custom made for each individual patient. We are proud of our new state of the art laboratory where all of the fabrication is done in house and not sent out to other facilities. This insures the highest quality and minimises any possible mistakes.
read more
Research & Development
We are continually researching for better ways to enhance the overall experience of wearing a prosthesis. We have developed many fabrication techniques that will enhance your overall experience, ways to make the prosthesis lighter in weight and more comfortable exclusive to Copeland Prosthetics.
read more
Mastectomy Products
At Copeland Prosthetics, for our mastectomy patients, we offer a full line of breast forms and bras. A certified fitter will ensure your proper fit and answer any questions you may have. We will file your insurance claim for you. We also accept payment by cash or credit card.
We love and support our troops!