Bill Copeland
A traumatic railroad accident in 1978, left Bill an above knee amputee. Since that day his life changed dramatically. He decided early on to take this adversity and do something positive with it. He returned to college at UCO in Oklahoma where he was awarded "Most Outstanding Student in Industrial Arts" two years in a row. Bill never conceded to limitations and was very active and demanding on his prothesis. Consequently, this developed into a burning desire to improve the world of prosthetics which continues to this day.
Bill gives a lot of credit to the mentors he's been fortunate to work with. John Sabolich, C.P.O., of Oklahoma, was the first prosthetist Bill worked with when he entered the field. John was a very progressive thinker and never satisfied with current technology. He was always creating new socket designs and experimenting with prosthetic devices and components in an effort to improve comfort, function and mobility. Working with John gave Bill a solid foundation, vision and greater understanding of the field of prosthetics.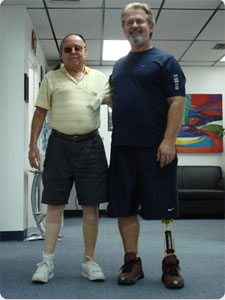 Bill also gives credit to Ed Gormanson, C.P., of Oklahoma, who showed him the importance of true patient care, compassion and understanding. Ed stressed attention to the smallest details, realizing this made a huge difference in patient care.
The experience Bill gained from these two visionary prosthetists has proven to be invaluable throughout his 31 years in the field. Evidence of this can be seen in the life long relationships Bill maintains with his patients who come to him for their prosthetic care from all over the world.
After working at Sabolich Prosthetic & Research Center in Oklahoma City for 15 years as Assistant Chief Prosthetist, Bill moved to Tampa and opened Sabolich Prothetics of Florida. Shortly after, NovaCare bought out the Sabolich prosthetic facilities and kept Bill on as the Lower Extremity Specialist of Florida. It was not long before Bill realized that the large corporation had the stockholders' interests in mind more than the patients'.
This realization along with the experience gained in Oklahoma was the inspiration which led Bill to open Copeland Prosthetics & Research. He knew it was more important and fulfilling to have a facility that would not only attract patients from all around the world, but also maintain patient-practitioner relationships which were personal, compassionate and life long.
Bill continues to tackle life and its challenges with confidence and a positive attitude and encourages this with each of his patients. You will not find another facility like Copeland Prosthetics & Research where our only goal is to see our patients realize their abilities, reach their highest potential and do so without pain or discomfort.
Bill Copeland C.P. , L.P. , FAAOP
ABC Certified Prosthetist #2706
Florida State License PRO39 Member – AAOP and FAOP
AAOP Fellow